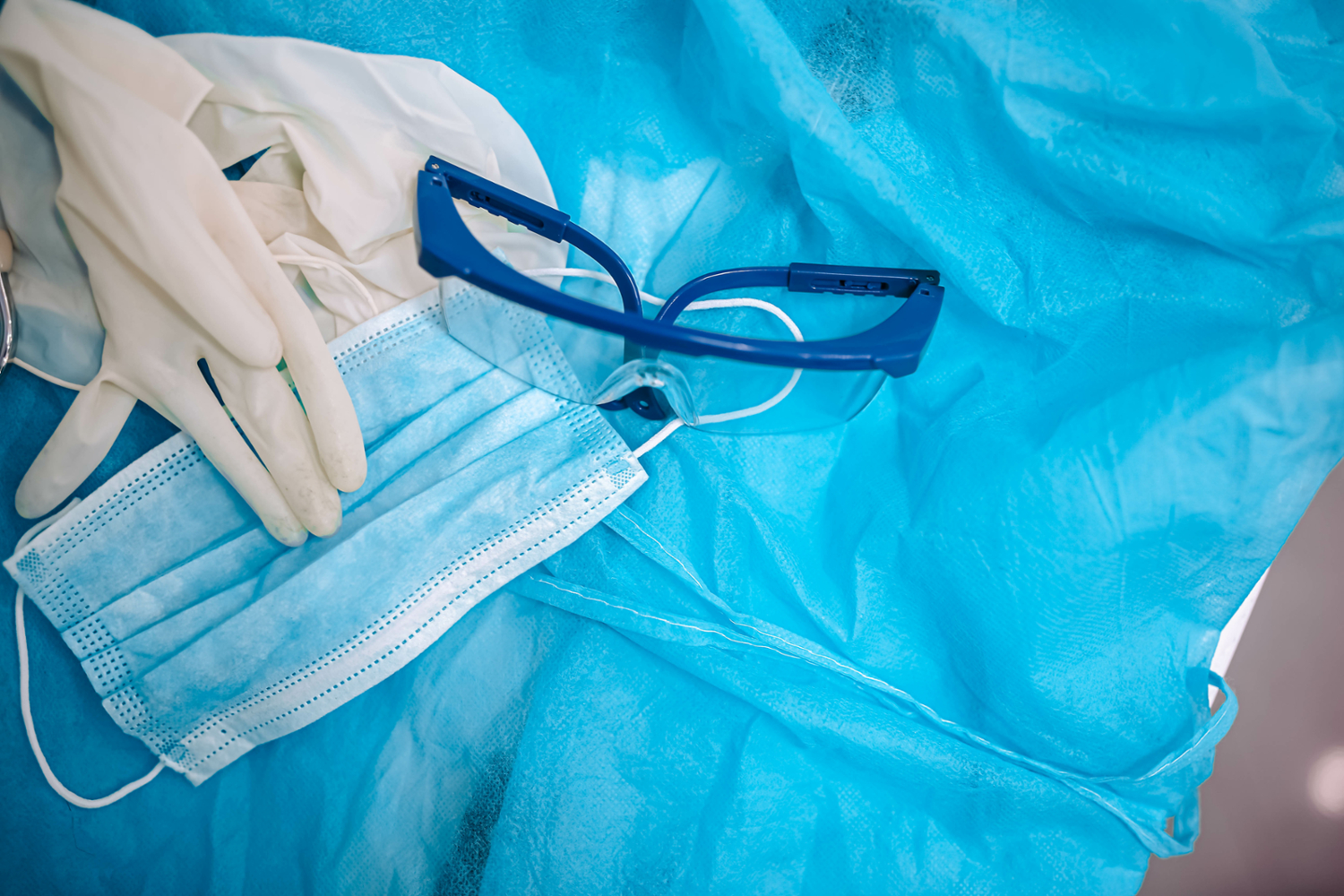 PPE and Laboratory Hazard Assessment Tool (LHAT)
Personal Protective Equipment (PPE) Policy
UCI's Personal Protective Equipment (PPE) program provides labs with personal protective equipment (PPE) at no charge. The University of California policy and regulatory standards require the supervisor to select Personal Protective Equipment (PPE) for workers under their supervision based on an assessment of hazards in the workplace which those workers are likely to encounter.
---
Virtual PPE Fitting Request
If you are a researcher at UC Irvine needing to obtain Personal Protective Equipment (PPE) for your lab, the following Lab Hazard Assessment Tool (LHAT); requirements must be completed before submitting the online request form:
Assigned/added to your lab's roster on the LHAT
LHAT has been acknowledged
Completion of the PPE training (Safety Training PPE PDF worksheet, PPE video, and PPE quiz)
PPE Voucher has been generated
When selecting the type of lab coat and safety eyewear, refer to the PPE Voucher (found on the Next Steps page of your lab's Hazard Assessment). The sample of PPE Voucher is on the right.
---
Follow Up
A pick up notification message will be sent within 5-7 business days from ppe@exchange.uci.edu.
PPE orders not picked up within 10 days of the notification message will be put back in the inventory and a new order request will need to be submitted.
Only submit an order if able to pick up within the required time frame.
For questions or concerns about your submission, please send an email to ehs-ppe@uci.edu
---
Laboratory Hazard Assessment Tool (LHAT)
The Laboratory Hazard Assessment Tool (LHAT) is an online safety solution intended to identify and communicate hazards present in a lab or research area to prevent workplace illness and injuries. It offers the ability to easily maintain lab hazard assessments, determine PPE needs and maintains training records required to help ensure that lab members are properly protected. Use of the LHAT is required for all laboratories using chemicals, biological agents, radioactive materials or other hazards.
To access the LHAT, you must first enroll in Duo. For additional information or assistance, contact the OIT Help Desk at oit@uci.edu.
For detailed instructions on completing the LHAT requirements, refer to the following:
If you are experiencing issues with the LHAT system, please contact Risk and Safety Solutions (RSS).
PPE and Lab Coat Laundry
All fittings for PPE are now being conducted virtually.
Before submitting your request for PPE:
Please complete the LHAT Requirements
Have your PPE Voucher available or know what types of lab coats are listed on your voucher (found on the Next Steps page of your lab's Hazard Assessment)
Refer to the Lab Coat Fitting Guide for assistance with selecting the appropriate PPE size/style
To request lab coats, safety glasses and/or splash goggles, please complete and submit the Virtual PPE Fitting Form.
After submission of the Virtual PPE Fitting Form, the Laboratory PPE Coordinator will respond in 5-7 days with additional questions or pick up instructions.
If you have questions about obtaining PPE for your lab, please contact the Laboratory PPE Coordinator at ehs-ppe@uci.edu.
Laundry services for EHS-issued lab coats are free of charge. Lab coats (personal or from other institutions including UCs) without a UCI-specific barcode will not be returned.
Lab coats at UCI are laundered by Mission Linen, a company committed to following laundering best practices and accredited by the Healthcare Laundry Accreditation Council to process textiles for hospitals and other healthcare facilities.
Lab coats are picked up/dropped off on Wednesdays (during major holidays, pick-ups and drop-offs will take place on Tuesday) by Mission Linen

For UCI Medical Center Building 55, lab coats are picked up/dropped off on Mondays

Only EHS-issued lab coats are eligible for free laundry services
For laundry procedures, a listing of laundry locations and more information about lab coat laundry services, please refer to the Laundry Services Handout.
Important Note: Lab coats must be laundered by a laundry service that adheres to Title 8, Section 5193 of the California Code of Regulations. Do not wash your lab coat at home.
EHS is able to provide ANSI certified prescription safety eyewear to eligible laboratory researchers. For more information, please see the Prescription Safety Eyewear Program flyer.
Interested researchers must complete the Prescription Safety Eyewear Survey.
Note: Interest in the program and meeting eligibility requirements does not guarantee prescription safety eyewear. Funding is limited and referrals are given on a first come, first serve basis.